Arbroath
Brechin
Carnoustie
Dundee
Forfar
Montrose
Perth

---
Arbroath
Films show will be going in :

OASIS
Lindsay street
Arbroath
Tel : 01241 431 010
Mobil : 07899 861 157

and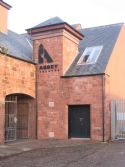 Abbey Theatre
Abbot Street
Arbroath
DD11 1HH
Tel: 01241 876 420

Wendesday 1.August 2007 / 7:00pm / OASIS
Fisherman's Tale
Irena Škoric / Croatia / 2005 / 15 min.

This documentary film tris to answer one simple human question – the relations between family and close friends andfriend ship between all generations.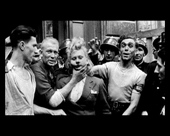 Even if She Had Been a Criminal...
Jean-Gabriel Périot / France / 2005 / 9 min.

While La Marseillaise rings out, we watch the parades of the glorified liberators, but we also see the cruelty and vindictiveness that manifested itself in places with the forcible expulsion of Germans and the public shaving ...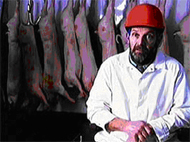 Slaughterhouse - The Task of Blood
Brian Hill / UK / 2005 / 60 min.

The vast majority of people in Britain eat meat but have little knowledge of how that meat ends up on their table. In a powerful observational documentary, Slaughterhouse: The Task of Blood reveals the day-to-day workings ...






The Story of One Plane Tree
Jana Sadlonová, Vladimír Ruppeldt ml. / Slovakia / 2005 / 18 min.





+

Students films




---
Wednesday 15.August 2007 / 7:00pm / OASIS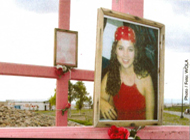 Dual Injustice
WITNESS / 2005 / 17 min.

Since 1993, over 400 women have been violently killed in Ciudad Juarez and Chihuahua, Mexico. Under fire for their inability to resolve these crimes, the police have tortured people to confess to the murders. However, neither the families ...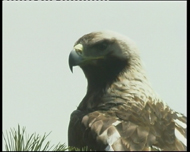 Returning the Crown
Jaroslav Mikuš / Slovakia / 2006 / 27 min.

Anyone, who observed the flight of the mperial Eagle in an open country side without forests, will fall prey to the majesty of this bird. Its beauty is hidden in its movement as well as in finding how deeply man influenced its fate. The fate of this species has never been very imperial...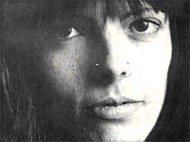 Jill's Film
John Curtin / UK / 2005 / 39 min.

Jill's Film is the result of months of hard work by John Curtin who wanted to keep alive the memory of Jill Phipps, an animal rights activist who died for her ideals. With the help of family camera tapes, this film shows how devoted an animal lover can only be.




+

Students Films
and


---
Friday 17.August 2007 / 7:00pm / Abbey Theatre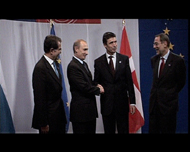 The Road to Europe
Christoffer Guldbrandsen / Denmark / 2003 / 58 min.

In 2003, when Denmark held the Presidency of the European Union, a difficult task was placed on the shoulders of Danish Prime Minister Anders Fogh Rasmussen. Ten countries including the Czech Republic had applied for accession into the EU and were trying to negotiate the most favorable conditions...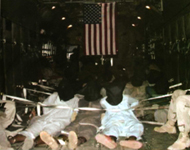 Outlawed
WITNESS / 2006 / 27 min.

Outlawed : Extraordinary Rendition , Torture and Disappearances in the "War on Terror" tells the harrowing stories of Khaled El-Masri and Binyam Mohamed, two men who have survived extraordinary rendition, secret detention, and toruture by the U.S. goverment...




+

Students Films
and


---
Wednesday 22.August 2007 / 7:00pm / OASIS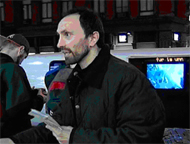 Witness
Jenny Stein / USA / 2000 / 43 min.

In the award-winning documentary The Witness, Eddie Lama explains how he feared and avoided animals for most of his life, until the love of a kitten opened his heart, inspiring him to rescue abandoned animals and bring his message ...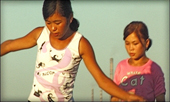 Love and Broken Glas
Suvi Helminen / Denmark / 2006 / 35 min.

Thirteen-year old Gulu and her friends are primarily interested in pop music and boys. She dreams that some boy from her neighbourhood will fall for her and that they will experience a life of true love together. The reality, however, is different. The girls are living in Kyrgyzstan, a country where ...







Shoot on Sight : The Ongoing SPDC Offensive on Civilians in Eastern Burma
WITNESS / 2005 / 14 min.






+

Students Films
and


---
Friday 24.August 2007 / 7:00pm / Abbey Theatre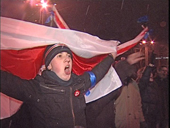 A Lesson of Belorussian
Miroslaw Dembinski / Poland / 2006 / 51 min.

In 1990, Belarus declared its sovereignty and a year later it announced its full independence after the collapse of the USSR. At the beginning of this period, an elite national lyceum was established in Minsk. In 1995, Alexander Lukashenko's rise to power meant the end of freedom and democracy in ...




Sons & Soldiers
Sasha Djurkovic / UK / 2006 / 16 min.

This series of four three-minute films comprises a commentary on the issue of the contemporary army and its activities. The cycle begins with a party in a mining club in south Wales on the evening before a young man joins the army. The enthusiasm and pride present ...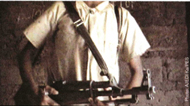 A Duty to Protect
WITNESS / 2005 / 14 min.

In the Democratic Republic of Congo (D.R.C.) children make up the majority of combatants in a war that has claimed over fout million lives.Through the voices of child soldiers.A Duty To Protect explores the complexity of the war, the issues...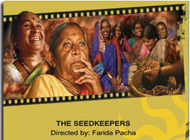 The Seedkeepers
Farida Pacha / India / 2005 / 29 min.

Medak district, Andhra Pardesh, India has been slowly transformed by an ecological movement for sustainable farming. More than 5000 poor, Dalit woman have come together to form sanghams – village level collectives. Though in the sanghams, these woman have revived traditional systems of agriculture, systems that ...




+